I saw 12 bear in the Shenandoah's and even walked underneath one that was hanging out 10 feet above my head eating acorns. I scared it just like it scared me and we both froze - then I hurriedly walked on and it remained frozen in a look of "maybe it didn't see me". Apparently they're eating the acorns early this year because of the drought. I do have (well, Andrea MIGHT have) photos of a mother bear in a tree 100' off the ground over a parking lot - with her 2 cubs - lunching.
As for this drought... it's bad. Worst in many years. And yet, so far as long as you can carry 10 miles worth of water you'll be ok - unfortunately how do you know this time it won't be 15 or 20 miles? The longest stretch I had was 16 miles, but if I were desperate I'm sure I could have take a detour to find water. These days I'm carrying 2-6 liters of water at a time which. With these mild temperatures I can easily hike the whole day with just 2 liters, but that's because I drink the most at night in camp, which is another 1-2 liters. So if I'm carrying 6 liters I can walk for 30 miles in one day, drink up at night, and still have 1/2 a liter for the morning which will last maybe 10 miles. So basically 6 liters can get me 40 miles, and I'll definitely find water in that time. The question is, how do I know when to carry 6 liters instead of 2? Educated guess, info from other hikes, and luck. :)
Well, my internet session is about to expire, time to go. I don't think I'll have another scheduled mail drop since I'm about 20 days away from finishing the AT! Go Ken Go! Oh, and once again I'm hiking in my solo bubble (since Front Royal, VA) but there are a few not far behind and a few 1-3 days ahead. Cheers!
|
permalink
|
related link
---
There are a good number of southbounders behind me by a few days, so we're starting to come through the area.
|
permalink
|
related link
---
I do love Harpers Ferry though, so this works out great.
* NEW MAIL DROP LOCATION *
** BTW, thanks to everyone for checking this site and taking interest in my journey. When I am done with the trail I will be putting captions to my photos AND writing up my trip into a "book" format rather than these little blog summaries. The blog is just to whet your appetite. :) **
|
permalink
|
related link
---
Andrea
|
permalink
|
related link
---
Photos ARE NOW AVAILABLE!
07/24-08/25!
|
permalink
|
related link
---
I'll leave a more detailed summary of the trail once I hit DC, but here's the short version:
- VT was muddy and rainy!
- MA was buggy and less rainy
- CT was gentle, less bugs, and river walks (ahhhh)
- NY was virtually bug free, lots of small ups and downs
- NJ was over quickly, saw no bears, bug free
- PA is long but flat, springs and streams mostly DRY so carry lots of water
Oh, and my second Gregory backpack began to fall apart after a week. :(
|
permalink
|
related link
---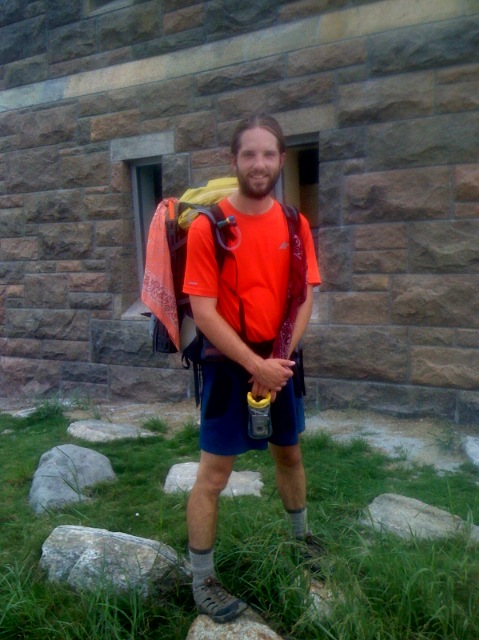 Cheers,
Andrea
|
permalink
|
related link
---
Anyway, I added two links on the right to help you find the photos! When I get time I'll add captions and organize them better, but one thing you realize when you get to town is that you have far too much stuff to do in too little time.
Tuesday morning (July 24) I'm hoping Sara can get me back to the trail - I'm anxious to see who's caught up and/or passed me!
|
permalink
|
related link
---
Take a look at the right side for the "398 Mile Summary" page for full details! In short, the hardest part of the trail (The Whites and Maine) is done and I'm told is pretty much flat and fast from here to Georgia!
|
permalink
|
related link
---
Gregory sent me a loaner backpack that's rated to carry LESS weight than the backpack I'm sending back - the backpack I'm sending back was falling apart because I was carrying too much weight. We'll see how long this one lasts. hehe
Getting in to Stratton I pulled a 22 mile, 15 hour day despite significant elevation changes - so I'm hoping that the next stretch through the Mahoosuc's (which is rated as the hardest so far on the trail) won't be so bad. So far my legs and body are holding up just fine and I'm feeling good. I'm definitely losing a little sensation in my feet, and occasionally a minor tear in my achilles acts up.
I've seen a lot of hikers, a lot more than I thought I would - and it seems the common thought from everyone is "There are too many hikers". Once us SOBO's pass the NOBO's (maybe around Maryland?) the trail will really feel empty.
Well, I'm just waiting for a ride back to the trail from the owner of this hostel, but if it gets too late I'll just stand out by the road with my thumb out. Turns out the guy that gave me a ride last night to town was the same guy that gave "Brit" a ride in this morning - the locals definitely like to support the trail. :)
|
permalink
|
related link
---
Next