I do love Harpers Ferry though, so this works out great.
* NEW MAIL DROP LOCATION *
** BTW, thanks to everyone for checking this site and taking interest in my journey. When I am done with the trail I will be putting captions to my photos AND writing up my trip into a "book" format rather than these little blog summaries. The blog is just to whet your appetite. :) **
|
permalink
|
related link
---
Andrea
|
permalink
|
related link
---
Photos ARE NOW AVAILABLE!
07/24-08/25!
|
permalink
|
related link
---
I'll leave a more detailed summary of the trail once I hit DC, but here's the short version:
- VT was muddy and rainy!
- MA was buggy and less rainy
- CT was gentle, less bugs, and river walks (ahhhh)
- NY was virtually bug free, lots of small ups and downs
- NJ was over quickly, saw no bears, bug free
- PA is long but flat, springs and streams mostly DRY so carry lots of water
Oh, and my second Gregory backpack began to fall apart after a week. :(
|
permalink
|
related link
---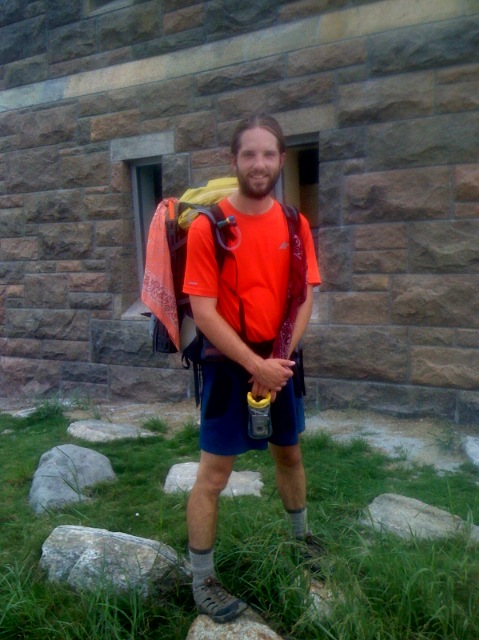 Cheers,
Andrea
|
permalink
|
related link
---
Anyway, I added two links on the right to help you find the photos! When I get time I'll add captions and organize them better, but one thing you realize when you get to town is that you have far too much stuff to do in too little time.
Tuesday morning (July 24) I'm hoping Sara can get me back to the trail - I'm anxious to see who's caught up and/or passed me!
|
permalink
|
related link
---
Take a look at the right side for the "398 Mile Summary" page for full details! In short, the hardest part of the trail (The Whites and Maine) is done and I'm told is pretty much flat and fast from here to Georgia!
|
permalink
|
related link
---
Gregory sent me a loaner backpack that's rated to carry LESS weight than the backpack I'm sending back - the backpack I'm sending back was falling apart because I was carrying too much weight. We'll see how long this one lasts. hehe
Getting in to Stratton I pulled a 22 mile, 15 hour day despite significant elevation changes - so I'm hoping that the next stretch through the Mahoosuc's (which is rated as the hardest so far on the trail) won't be so bad. So far my legs and body are holding up just fine and I'm feeling good. I'm definitely losing a little sensation in my feet, and occasionally a minor tear in my achilles acts up.
I've seen a lot of hikers, a lot more than I thought I would - and it seems the common thought from everyone is "There are too many hikers". Once us SOBO's pass the NOBO's (maybe around Maryland?) the trail will really feel empty.
Well, I'm just waiting for a ride back to the trail from the owner of this hostel, but if it gets too late I'll just stand out by the road with my thumb out. Turns out the guy that gave me a ride last night to town was the same guy that gave "Brit" a ride in this morning - the locals definitely like to support the trail. :)
|
permalink
|
related link
---
So far the trip has been great. The mosquitos can be pretty bad at times. Only one moose from a distance although today one came crashing towards me in the woods today but ran off when I made noise (never saw it, just heard trees breaking). Mostly toads and snakes out there.
In Stratton, ME I pick up a new backpack since my brand new one is already falling apart (probably faulty manufacturing) and the company, Gregory, really bends over backwards for thru-hikers. It turns out most camping gear companies will do just about anything for you if you call and say "Hi, I'm currently a thru-hiker on the AT", it's really nice.
Well, this "free" internet connection in the brewery lounge is nice but it's time to get to bed. Happy trails!!!
P.S. The best gear so far has been the Black-Eyed Susie rain flies!
|
permalink
|
related link
---
Right now my hip, knee, and feet joints are all sore, but otherwise I feel great. Not so sure I'll be eating anything in it with Peanut Butter for a while though (methinks I consumed at least 1 jarful over 7 days...).
Enjoy the images:)
Adam
Images of "Kenneth", "Adam", and the trip from Katahdin to Monson, ME
|
permalink
|
related link
---
Next